Firstly, let me give a shout out to all my fellow parents surviving the Victorian lockdown whether you're juggling work from home, home schooling or keeping toddlers busy or all of the above!
If you're like me, you're probably looking for any kind of entertainment or activity to keep little ones occupied. Last lock down we all joined the rainbow and teddy trails so I was obviously excited when Ballarat joined the Spoonville craze that has been popping up all over the globe. What originally started in a small town in England earlier this year has since moved around the world and even has its own website and Facebook page dedicated to all the Spoonsville towns.
Ballarat's first Spoonville popped up over a month ago on Ripon Street, and since then many more have been popping up all over town. I've spent the last few weeks making spoons with the kids and using our exercise time to visit the many Spoonvilles around town. I realised it might be helpful to list all the Spoonvilles in one place to allow you to find them all too.
Disclaimer: Due to recent wet weather, you may find spoons that weren't waterproofed before display may now be nudie spoons.
Top Sights
Ballarat East: On the Scott Parade walking track between Oliver & Rice Street. This popular walking track often features chalk art and hanging yarn art. This Spoonville was possibly the largest and most creative. At this Spoonville you can spy a mix of families, monsters, a set of elegant painted ladies and even David Bowie!
Ballarat Central: Frank Street in the 100 block. Whilst this Spoonville is new and only had a couple of residents but you MUST visit for the Fairy House Hunt. The effort that's gone into this creative display made it the winner in our household.
Lake Wendouree: Ripon Street North between Mair & Webster Streets on the west side (Private Residence). This was Ballarat's first Spoonville and has been featured in both local and Melbourne newspapers. Although it's tucked away in the garden of a private residence it hasn't stopped locals dropping spoons in the letterbox to add to the display. Even though it's the oldest spoon city in Ballarat the residents are all still bright and colourful since the home owners here give each spoon a spray with weatherproof lacquer. Play eye spy with kids to find the animals and clowns or have laugh at the inclusion of The Beatles Sargent Pepper's Lonely Hearts Club. There is often teddies and other fun things displayed in the house windows.
Ballarat North: In the centre median of Havelock Street on the 900 block (between Howitt & Walker Streets). This is a newer Spoonville but has been steadily growing in population and the recent addition of a colours sign has made it easier to find. Batman, Superman and even a minion make an appearance at this location. (Edit: since posting some of the spoons here have not held well in the weather. See my tips below for weatherproofing spoons)
Black Hill: Chisholm Street Reserve. Parking near the rotunda then walk to the other side of the oval. Unless you knew of the location or happened to walk the oval this Spoon city would be a well hidden spot. Football fans, monsters, a penguin and Bluey are just a few of the cute residents here.
Brown Hill Yarrowee Creek Trail: Park on Hillview Road just past Apple Orchard Drive and follow the track 250 meters east towards the Gong. If you want to park closer, enter the track near the playground on Apple Orchard Drive. This Spoonville is home to some of the more creative and creepy spoons & forks, some of which have even climbed the tree! While you're here its worth enjoying the walk along this beautiful trail for the nature play including a cubby house, log see-saw, hollow tree and look for platypus (and trolls) in the creek by the bridge.
More to see
Ballarat East: Victoria Street on the north side between Oliver Street & Dyte Parade (Private residence). Featuring a daily dad joke the residents here are a mix of monsters and Parisian mice.
Mt Clear: Finley Court. Another new Spoonville this little town is growing in a flower pot. Although small this town makes up for its size with colour and creativity. Look for the green swamp monster.
Wendouree: OLHC School 480A Gillies, Street North, inside the school gate. This Spoonville has been set up by the local students but you can walk or drive in the front to see them behind the gate.
Canadian: By the Sparrow Ground Reserve Playground on the corner of Kline & Spencer Street. As a new town there were few residents when we visited, they include some clowns, a monster and a puppy dog.
Newington: Inkerman Street between Murray Street and Waller Ave (Private Residence). Another new Spoonville looking for residents. The few kitchen utensils on display were wacky and colourful!
Buninyong: Warrenheip Street. A small number of cheery spoons have popped up at the entrance to De Souza Park.
New Additions: These Spoonvilles have popped in recent days and have only a few couple of spoon residents.
Ballarat East: Wallaby Track. Along the walking track in front of the bike jumps just before the Newman Street bridge. You can park on Newman Street or Whitefields Street. Only half a dozen spoon residents here but all very colourful and creative.
Ballarat North: Ballarat North Primary School. Inside the gate of Landsborough Street. Some amazing creativity here, Santa and the Purple polka dot monster are a few of the spoons to look out for.
Eureka: Eureka Stockade Gardens on the corner of Eureka & Stawell Street. This Spoonville was so new when we visited it only had two lonely residents when we visited. We plan on visiting again to see any new additions.
Soldiers Hill: Located on Ligar Street between Macarthur & Chisholm St.
Brown Hill: Brown Hill Reserve, 379 Humffray Street North beside the playground. Only a couple of spoon residents at this new town.
Wendouree:  Wendouree Neighbourhood Centre, 12 – 14 Violet Grove, Wendouree.
Around the region
Ararat: Early Learning Centre 28 Moore Street.
Ararat: Great Western Hotel, Main Street.
Ballan: Noddys Cottage/Ballan Hotel.
Bacchus March: The Village shopping centre.
Bendigo: Too many to list, but they are all listed here
Daylesford: In front of Daylesford Primary School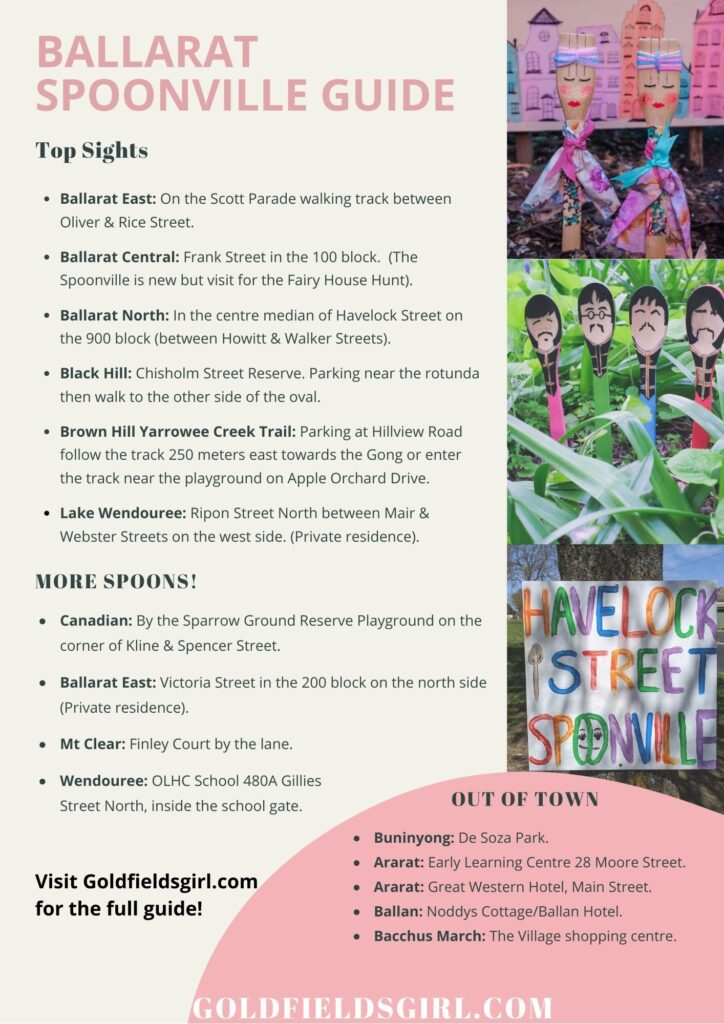 Tips for spoon making.
MATERIALS:
Choose wooden & bamboo spoons over plastic.
Spoons with a skinny handle/base are much easier to push into the ground
Spoons have sold out in most stores and online since the Spoonville craze has hit however some discount stores offer packs of odd shaped mixing tools which are just as good for decorating.
DECORATING:
Make sure you fix decorations well with glue to ensure your spoons stay in place and don't cause litter.
Spray your spoon with clear enamel spray to waterproof otherwise the rain will wash off paint and decorations
Don't be too critical of your work. Spoonville is a community activity to engage children and the fun is in the making and hunting. 
WEATHERPROOFING
Make sure decorations are properly fixed and use a clear spray of lacquer to ensure faces don't melt once it rains.
Spoonville Competition
Share your best spoon/fork/kitchen utensil creation with us on social media. Our favourite creation will win a box of cupcakes for their household. Kids are encouraged to participate!
To Enter:
Upload a photo of your creation to social media
Tag the Goldfields Girl in your photo and use the hashtag #BallaratSpoonvilleGuide
We hope you found our guide useful. Please share your favourite Spoons and Spoonville in the comments and let us know if we missed one in our guide.