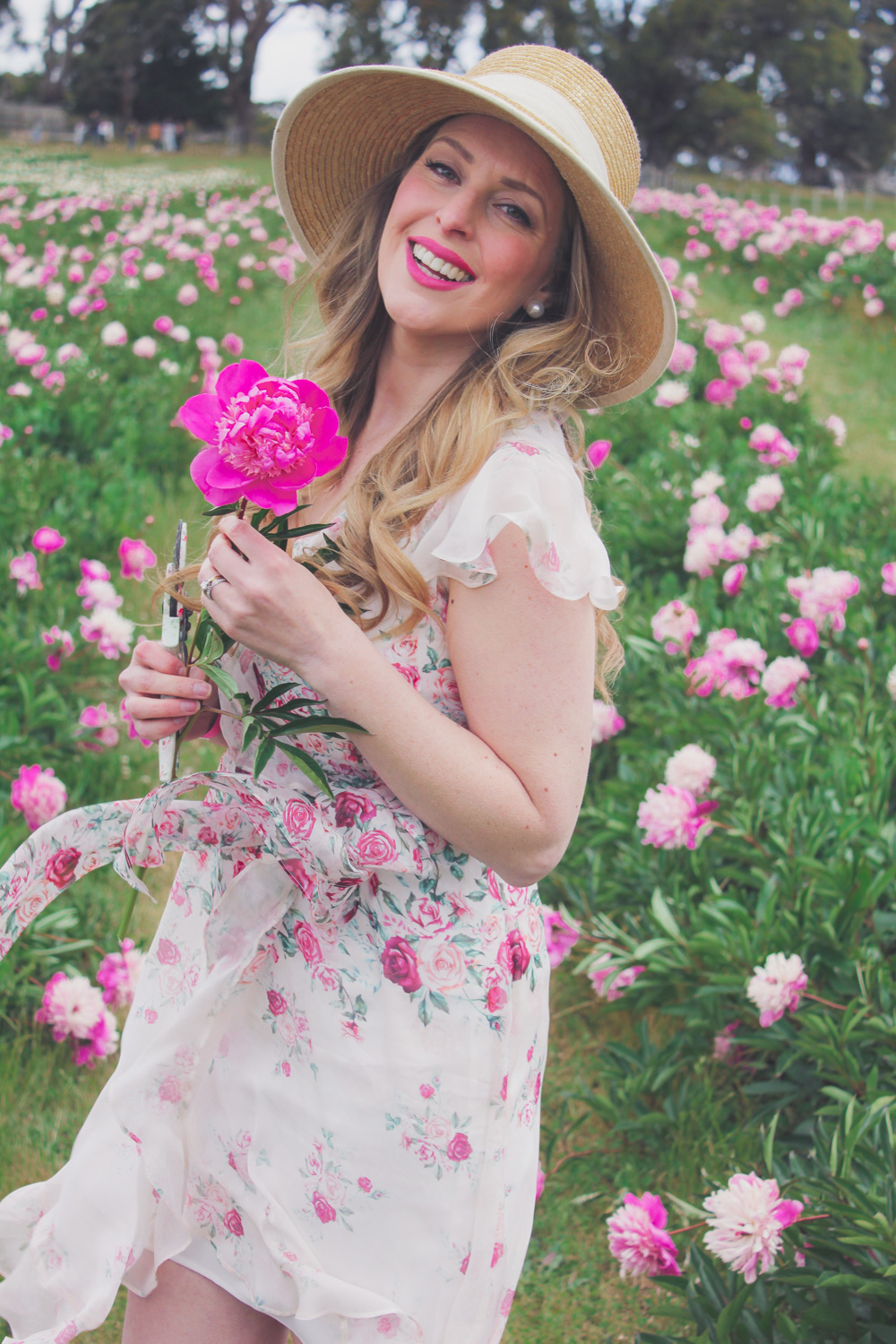 Every year out little family goes to visit the Spring Hill Peony Farm.  I love flower farms and they are one of my favourite Spring PYO events. 
Last year when we visited I was shooting this pretty Alannah Hill dress for their spring collections while still hiding my baby bump. I wasn't very well leading up the visit but nothing was going to stop me going. 
Spring Hill Peony Farm is located in the Daylesford-Macedon Ranges Region of Victoria about an hour drive from Ballarat or Bendigo and about an hour and 15minutes from Melbourne. If you are planning your visit my tips are listed below.
Entry: You can buy peonies and plants from the farm gate or you can buy a ticket to the peony paddock (a 1km walk). I recommend pre purchasing your ticket to the paddock online so you don't miss out. 
PYO: Buy the ticket to enter the paddock online and take your own bucket & secateurs. Get tips from the staff on which peony buds to cut on the day.
Dress: Keep in mind its a few degrees cooler at Spring Hill and you will be in a paddock so I suggest a coat! You'll have to walk on some rough ground so wear comfortable closed toe shoes that are suitable. I wore my SheWear gumboots. Don't forget a hat and sunscreen.
Food/Drink: We usually take a picnic blanket and picnic. On specific days they do have a cute food van, coffee van, bar and even live music.
Access & Facilities: There are toilets on site. The terrain to the paddock is rough, last year we took the pram but it was not easy to push. If you choose not to go to the paddock you can expect the main grounds to be fairly pram friendly.