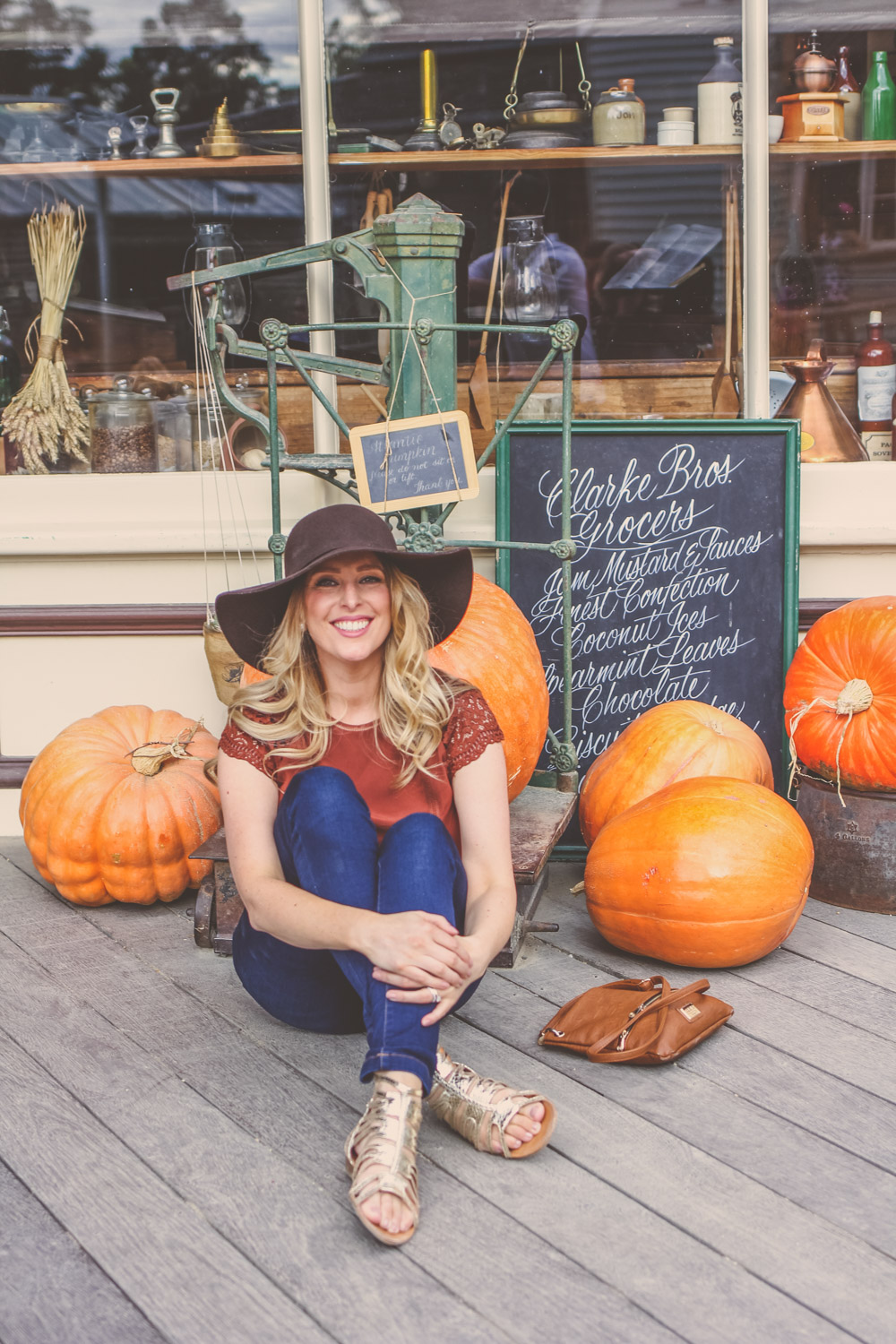 Sovereign Hill is one of those places you used to go when you were a kid and then for some reason you never visit even though you have such great memories of the place. Since having my own children I invested in a membership and after endless visits I thought I would put together my list of the top things we have loved most during autumn.
Pumpkins, pumpkins everywhere
Yeah, I'm a little obsessed with pumpkins if you hadn't noticed. A wander through the garden and there are some huge pumpkins being grown as well as the giant display of real pumpkins out the front of the grocers. Roo loved posing for photos with them as they were around the same size as him!
Straw boater hats
Who knew the drapery store had so many great accessories. Straw hats were all the rage for autumn and the back room of the drapery was filled to the brim with a large variety that were so reasonably priced I may have purchased a few.
The raspberry drop hot cross bun
To say that I am a hot cross bun addict would be an understatement. If you missed out on Sovereign Hills special raspberry drop version of this easter treat then add it to your list for next year. So it's not the worlds best bun, but you know you still have to try it!
Secret spices from the grocers
Ok this has to be the tip of the season. The grocers stock Gewurzhaus spices in store. I have been a huge fan of Gewurzhaus for a long time and had no idea that Sov Hill stocked some of their range. Being autumn you cannot go past the apple cake spice. It's apple season so this spice will go perfectly for whatever apple based dessert you are baking. Cakes, tarts, turnovers or crumbles this is your secret weapon.
Autumn food
My autumn food picks are a little obvious considering it's apple season but you ought to have the apple pie from the Hope Bakery or the warm apple crumble at the New York Bakery. If you are after savouries warm up with a vegie soup from the Transit Office.